The last few years of economic distress has clearly taken its toll on the Sacramento commercial real estate market.  One prime example involves the 2009 closing of a 130,000 square foot Wal-Mart facility in Southgate Plaza, located on the southeast corner of Florin Road & Franklin Blvd in South Sacramento.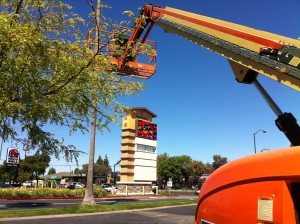 As the main anchor for this 300,000 square foot community center, Wal-Mart's departure ultimately created a mass exodus of tenants who had successfully lived off its draw of local shoppers for many years.  Holes began to appear with "FOR LEASE" signs being posted by a property manager anxious to re-lease the empty spaces.
Click here for related story by Sandy Nax of the Sacramento Business Journal.
One early success was the opening of 99 Ranch Market in a 70,000 square foot space, formerly operated by a national grocery chain.  This Asian themed grocery market opened in November 2010 and has continued to draw shoppers from a wide radius.  Southgate Plaza then experienced a period of relative calm over the next 18 months, while commercial lease proposals presumably came and went.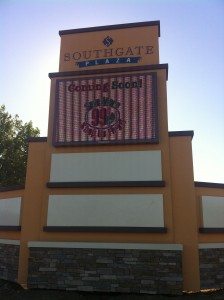 Fast forward to 3rd Quarter 2012 and Sacramento area commercial real estate participants are pleased to welcome both Anna's Linens and 99 Cents Only to Southgate Plaza, both soon to open stores comprising 10,000 and 15,000 square feet, respectively.  It would appear this recent vote of confidence by national retailers has prompted even more investment into this 52-year old shopping center.
Driving past Southgate Plaza last week, one could see the finishing touches being applied to two digital signs
now prominently being displayed on the corner and main entrance to the shopping center.  While we haven't seen many electronic signs in front of commercial real estate properties throughout Sacramento, expect this trend to continue.  Tenants have the unique opportunity to be showcased on the digital billboard in rotation, creating enhanced visibility to prospective customers.
One other property that is benefiting from this recent leasing activity at Southgate Plaza is River Oaks Shopping Center, located across the street on the southwest corner of Florin Road & Franklin Blvd.  This property is fully occupied by Food Max, Rite Aid, Goodwill and almost a dozen small retail shops.  However, one significant building is currently available for sale or lease.
A free-standing restaurant, comprising 7,625 square feet and located towards the corner of Florin Road & Franklin Blvd, was recently closed by the owner/operator after 18 years.  Costa Azul was a lively Mexican restaurant and nightclub that suffered throughout the recession with up to a 70% loss of its regular customer base, most of whom left town to find work.  Hanging on for as long as possible, the owner (in his mid 70's) finally decided to retire.
This building is a prime piece of commercial real estate in the heart of South Sacramento.  It was originally constructed as a steakhouse in the mid-1970's, then converted to a Chinese buffet with wok stations still in place.  However, more than half its useful life was spent serving up Mexican food and entertainment with live bands.  A full liquor license remains available for a prospective user.  With all the commercial real estate activity occurring at the corner of Florin Road & Franklin Blvd, we're bound to see something good take over this restaurant space before long.  It's simply a matter of time and finding the right fit.
Article contributed by Brian Jacks
Brian Jacks is a Sacramento commercial real estate broker (since 1996) specializing in commercial leasing and investment sale transactions for retail, shopping centers, multifamily, apartments, senior housing, office, industrial, mixed-use, and special purpose properties.  Having spent over 20 years with Wells Fargo, he personally facilitated the underwriting, approval and funding of approximately 250 loans totaling over $1 billion in loan proceeds.
Jacks is a Regional Vice President for EAST WEST Commercial Real Estate, a full service commercial real estate brokerage advisor based in Orange County.  In addition to serving the Sacramento marketplace, he is also responsible for the company's current expansion into the San Francisco Bay Area.  For more information, contact:
Brian.Jacks@EastWestCommercial.com
Cell (916) 837-3456 | eFax (916) 313-3778
915 L Street, Suite C440, Sacramento, CA 95814
About EAST WEST Commercial Real Estate
EAST WEST Commercial Real Estate is a full service commercial real estate brokerage advisor specializing in investment sales, commercial leasing and finance for retail, office, industrial multifamily, senior housing, self-storage, mixed-use and special purpose properties throughout California and Arizona.  The firm is headquartered in Orange County, CA.  Brokerage offices include Sacramento, San Francisco, Walnut Creek, San Jose, Oakland, Los Angeles, San Diego, Orange County, Riverside, San Bernardino and Phoenix.  Other services include bank REOs, 1031 exchanges, nationwide commercial Business Opinions of Value (BOV's) and Broker Price Opinions (BPO's), mortgage brokerage, lender services, and asset management.