The last few years of economic distress has clearly taken its toll on the Sacramento commercial real estate market.  One prime example involves the 2009 closing of a 130,000 square foot Wal-Mart facility in Southgate Plaza, located on the southeast corner of Florin Road & Franklin Blvd in South Sacramento.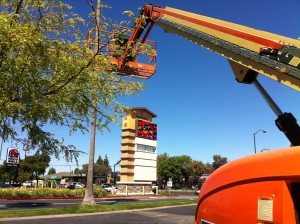 As the main anchor for this 300,000 square foot community center, Wal-Mart's departure ultimately created a mass exodus of tenants who had successfully lived off its draw of local shoppers for many years.  Holes began to appear with "FOR LEASE" signs being posted by a property manager anxious to re-lease the empty spaces.
Click here for related story by Sandy Nax of the Sacramento Business Journal.