Despite declining retail vacancy rates, it's still a tenant's market throughout the Sacramento Commercial Real Estate landscape.  The overall Sacramento retail vacancy rate dropped slightly to 9.8% during the 2nd Quarter of 2012, according to Voit Real Estate Services, who was recently quoted by the Sacramento Bee.  This represents the second quarter in a row that commercial retail vacancy ended below 10%.  According to the same source, commercial real estate vacancies within the Sacramento submarket of Carmichael reflect a much higher level of 11.3%.  This phenomenon of higher retail vacancy rates often creates dramatic opportunities for businesses to sign commercial real estate lease transactions that are quite favorable to tenants.
One recent example involves a franchisee of a national company, who benefitted from a commercial real estate market that currently favors tenants throughout the Sacramento area.  In late January 2012, Melisa Nelson acquired her first Curves 

franchise (ladies fitness gym), which had operated at 4141 Manzanita Ave in Carmichael for almost 10 years.  The commercial lease would be expiring only seven months later, so Ms. Nelson had to determine whether to renew the lease for another five years or find a better location.  The existing facility was part of a small neighborhood strip center with limited visibility and low traffic that had become mostly vacant with only a handful of tenants remaining in place.
After engaging Brian Jacks, Regional Vice President of East West Commercial Real Estate in Sacramento,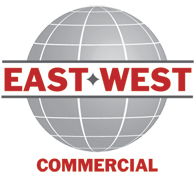 for commercial retail leasing representation, Ms. Nelson was presented with several different options that would create a better overall leasing package.  In the end, she signed a new commercial retail lease with Tsakopoulos Investments for a 1,400 sq. ft. shop space in Carmichael Village at 4005 Manzanita Ave in Carmichael… right across the street from her former location.  Carmichael Village is a large shopping center, anchored by Bel Air, an upscale grocer operated by Raley's.  The center is almost entirely full with complementary tenant uses that will drive more traffic to the Curves franchise.  The new location opens September 1, 2012.
In addition to securing a fantastic commercial real estate location with excellent visibility within a very busy and thriving commercial shopping center, Ms. Nelson benefitted in the following financial aspects.  Her new combined monthly rent plus landlord expense reimbursements were reduced by 12%, as compared to her former lease.  In addition, she received three months of free rent plus 45 days early occupancy for signing a 53-month lease.
In October 2011, the Sacramento office of East West Commercial Real Estate signed a renewal lease for a separate Curves franchise in Antelope, which resulted in a 20% reduction in base rent, plus 50% off (half rent) for the first 6 months of a 3-year lease.
The latter example suggests that while the best commercial real estate deals in Sacramento may have passed, there are still great opportunities to negotiate terrific retail leases within the Sacramento commercial real estate sector.
Article contributed by Brian Jacks
Brian Jacks is a Sacramento commercial real estate broker (since 1996) specializing in commercial leasing and investment sale transactions for retail, shopping centers, multifamily, apartments, senior housing, office, industrial, mixed-use, and special purpose properties.  Having spent over 20 years with Wells Fargo, he personally facilitated the underwriting, approval and funding of approximately 250 loans totaling over $1 billion in loan proceeds.
Jacks is a Regional Vice President for EAST WEST Commercial Real Estate, a full service commercial real estate brokerage advisor based in Orange County.  In addition to serving the Sacramento marketplace, he is also responsible for the company's current expansion into the San Francisco Bay Area.  For more information, contact Brian Jacks at (916) 837-3456 or Brian.Jacks@EastWestCommercial.com.
About EAST WEST Commercial Real Estate
EAST WEST Commercial Real Estate is a full service commercial real estate brokerage advisor specializing in investment sales, commercial leasing and finance for retail, office, industrial multifamily, senior housing, self-storage, mixed-use and special purpose properties throughout California and Arizona.  The firm is headquartered in Orange County, CA.  Brokerage offices include Sacramento, San Francisco, Walnut Creek, San Jose, Oakland, Los Angeles, San Diego, Orange County, Riverside, San Bernardino and Phoenix.  Other services include bank REOs, 1031 exchanges, nationwide commercial Business Opinions of Value (BOV's) and Broker Price Opinions (BPO's), mortgage brokerage, lender services, and asset management.
Social Media Links
Twitter – http://www.Twitter.com/SacCommercialRE
Google Plus – http://www.GPlus.to/SacCommercialRE
Facebook – http://www.Facebook.com/SacCommercialRE
YouTube – http://www.YouTube.com/SacCommercialRE
LinkedIn – http://www.LinkedIn/In/bjacks
Visit Our Websites
http://www.Sacramento-Commercial-RealEstate.com
http://www.EastWestCommercial.com
http://www.EastWestCaptialAdvisors.com